2017 New Music Releases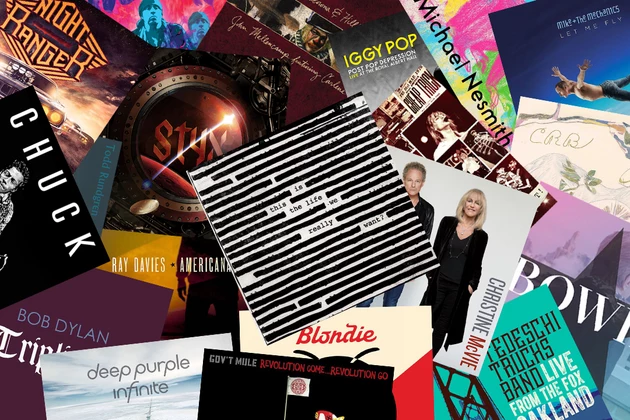 2017 could see the arrival of any number of albums by classic-rock legends, if the late-'16 list of TBA projects comes to fruition. In the meantime, settle in for a string of confirmed album releases that span the musical spectrum.
Longtime Ratt frontman Stephen Pearcy steps out with a solo project, as Deep Purple and Brian Eno make quick work of follow-up studio projects. Elsewhere, look for members of Guns N' Roses, Thin Lizzy and Queens of the Stone Age playing with bands like Bash and Pop, Black Star Riders and Gone Is Gone.
As always, there are scores of tasty reissues to pore over, beginning with Cream and the Grateful Dead, then continuing with Black Sabbath, Bon Jovi and Lynyrd Skynyrd, among many others.
You'll find all the dates for 2017's new music releases below. Click on the highlighted titles to get more information on each album, book or video. We'll keep updating this list throughout the year, so be sure to check back frequently.
Jan. 1
Brian Eno, Reflection
Jan. 6
Gone Is Gone [Queens of the Stone Age], Echolocation
Jan. 13
David Bowie, No Plan (EP)
Flaming Lips, Oczy Mlody
Gerry Rafferty, The Very Best of Gerry Rafferty
Jake Clemons [E Street Band], Fear & Love
Jan. 20
Barry Goldberg [Electric Flag, the Rides], Street Man / Blast from My Pasts (reissues)
Grateful Dead, The Grateful Dead: 50th Anniversary Deluxe Edition
Pink Floyd, The Final Cut; A Momentary Lapse of Reason (vinyl reissues)
Jan. 27
Bash & Pop [Tommy Stinson of Guns N' Roses / Replacements], Anything Could Happen
Cheap Trick, Dream Police (reissue)
Chicago, Chicago II (Steven Wilson remix)
Cream, Fresh Cream (reissue)
Derringer, The Complete Blue Sky Albums 1976-1978
The Move, Magnetic Waves of Sound: The Best of The Move
Stephen Pearcy [Ratt], Smash
Feb. 3
Black Sabbath, The Ultimate Collection (2 CDs; 4 LPs)
Black Star Riders [Thin Lizzy], Heavy Fire
Delaney & Bonnie and Friends, Motel Shot: Expanded Edition
Grateful Dead, Dick's Picks 33: 10/9 & 10/10/76 Oakland, CA; and Dick's Picks 34: 11/5/77 Rochester, NY
Judas Priest, Turbo 30: 30th Anniversary Deluxe Edition
Feb. 10
Bachman-Turner Overdrive, Street Action / Rock N' Roll Nights (reissue)
Bon Jovi, Vinyl Box Set (25 LPs)
Elvin Bishop, Big Fun Trio
Ozark Mountain Daredevils, Ozark Mountain Daredevils (reissue)
Simon Kirke [Free, Bad Company], All Because of You
Feb. 17
Golden Earring, The Complete Studio Recordings (29 CDs)
Jethro Tull, Stand Up: Steven Wilson Remix
Status Quo, Keep 'Em Coming: The Collection (2 CDs)
Feb. 24
Asia, Symfonia: Live in Bulgaria 2013
Daryl Hall and John Oates, Whole Oats / War Babies (2-CD set)
Fleetwood Mac, Tango in the Night: Deluxe Edition
George Harrison, The Vinyl Collection
Gerry Rafferty, Can I Have My Money Back?: Expanded Edition
Iggy & The Stooges, Music from Gimme Danger: The Story of the Stooges
Leon Russell, Americana; Life and Love; The Live Album [with New Grass Revival]
Lynyrd Skynyrd, Lynyrd Skynyrd 1991 (reissue)
Roy Orbison, Black & White Night 30 [Bruce Springsteen, Tom Waits, Jackson Browne, Bonnie Raitt, Elvis Costello, others]
Various artists, Rock and Roll Music! The Songs of Chuck Berry [Elvis Presley, the Beach Boys, Buddy Holly, Jerry Lee Lewis, the Hollies, others]
March 3
Colin Hay [Men at Work], Fierce Mercy
John 5 [David Lee Roth; Rob Zombie] – Season of the Witch
Southside Johnny and the Asbury Jukes, The Fever: Remastered Epic Recordings (2 CDs)
The Rascals, The Complete Singles A's & B's
March 10
Chickenfoot, Best + Live
Fairport Convention, 50:50@50
Jerry Garcia Band, GarciaLive Volume Eight: November 23rd, 1991 Bradley Center (2 CDs)
Soundgarden, Ultramega OK (Deluxe Edition)
March 17
CJ Ramone, American Beauty
Greg Kihn Band, ReKihndled
Tedeschi Trucks Band, Live From the Fox Oakland (2 CDs, 1 DVD)
The Zombies, Odessey and Oracle (50th Anniversary Edition)
March 24
Anthrax – For All Kings (7-Inch Box Set)
Frank Zappa, Joe's Corsage; Greasy Love Songs; Carnegie Hall; Roxy By Proxy; Joe's Camouflage; Philly '76; Hammersmith Odeon; Congress Shall Make No Law …; Feeding the Monkies at Ma Maison; Civilization Phaze III; Everything is Healing Nicely; Dance Me This; Frank Zappa Plays the Music of Frank Zappa; Joe's Domage; Joe's Xmasage; Imaginary Diseases; The MOFO Project/Object; The Dub Room Special!; Buffalo; Joe's Menage; One Shot Deal; and A Token of His Extreme Soundtrack (reissues)
Jethro Tull, Jethro Tull: The String Quartets
Michael Schenker, Live Tokyo International Forum Hall (2 CDs)
Night Ranger, Don't Let Up
Paul McCartney, Flowers in the Dirt (reissue)
Pink Floyd, Cambridge St/ation (1965-67); Germin/ation (1968); Dramatis/ation (1969); Devi/ation (1970); Reverver/ation (1971); Obfusc/ation (1972)
Steve Hackett, The Night Siren
The Golliwogs [precursor to Creedence Clearwater Revival], Fight Fire: The Complete Recordings 1964-1967
March 31
Bob Dylan, Triplicate
Dave Davies, Open Road [With Russ Davies]
Fleetwood Mac, Tango in the Night (Expanded Edition)
Mastodon, Emperor of Sand
Paul Kantner and the Windowpane Collective, Venusian Love Songs
The Byrds, Live at the Fillmore February 1969
The Doors, The Doors: 50th Anniversary Deluxe Edition
April 7
Brian May and Kerry Ellis, Golden Days
Deep Purple, InFinite
Joan Baez, The Complete Gold Castle Masters (3 CDs)
Krokus, Big Rocks
Mike and the Mechanics, Let Me Fly
April 14
Allman Brothers Band, The Fox Box
Michael Nesmith, Infinite Tuesday: Autobiographical Riffs
April 21
Big Star, Thank You, Friends: Big Star's Third Live … and More
Humble Pie, Official Bootleg Box Set Volume 1
John Mellencamp, Sad Clowns and Hillbillies
Ray Davies, Americana
Richie Kotzen, Salting Earth
Procol Harum, Novum
April 22
Record Store Day Exclusives
Alice in Chains – Get Born (7″, 4,000)
David Bowie – BOWPROMO vinyl set (5,000); Live in Los Angeles '74 (5,000)
The Cars – Live at the Agora, 1978 (4,000)
Cheap Trick – The Epic Archive Vol. One (1,470)
David Crosby – David Crosby and the Lighthouse Band (2,500)
The Doors – Live at the Matrix '67 (4,500)
Emerson Lake and Palmer – Brain Salad Surgery (1,500)
Fleetwood Mac – Alternate Mirage (3,500)
Grateful Dead – P.N.E. Garden Auditorium, Vancouver, B.C. 7/29/66 (4,000)
Jimi Hendrix (as Curtis Knight) – Live at George's Club 20, 1965 & 1966 (2 LP, 3,000)
Jane's Addiction – Been Caught Stealing (12″ EP, 3,500)
The Kinks – All Day and All of the Night (2,500); Got Love If You Want It (2,500)
Motorhead – Clean Your Clock (Picture Disc, 1,500)
Stevie Nicks – Rarities (5,000)
Jimmy Page and the Black Crowes – Live at Jones Beach (3,000)
Pink Floyd – Interstellar Overdrive (4,000)
Iggy Pop – Post Pop Depression: Live at the Royal Albert Hall (1,200)
Ramones – '76–'79 Singles Box (3,500)
Red Hot Chili Peppers – Go Robot (4,750)
Lou Reed – Perfect Night: Live in London (3,000)
The Runaways – Cherokee/Gold Star Sessions (3,000)
Santana – Live at Woodstock (3,000)
The Sex Pistols – Anarchy in the U.K.: The U.K. and U.S. Singles (3,500)
Patti Smith – Hey Joe (7″, 2,250)
Sting – Live at the Bataclan (3,500)
Talking Heads/Wildlings – This Must Be the Place (Side-by-side, 3,000)
Toto – Africa (2,500)
The Turtles – More Golden Hits
U2 – Red Hill Mining Town (7,000)
Yes – 90125 (Picture disc, 2,500)
Neil Young – Decade (5,000)
The Zombies – I Want You Back (1,250); A Rose for Emily/This Will Be Our Year (1,250)
RSD Limited Run
Blondie – Long Time (7″, 750)
Randy Newman – Lonely at the Top: Studio Albums 1968-1977 (5 LP Box Set, 1,000)
Pink Floyd – 1966-1967 (12″ picture disc, 650)
Leon Russell – Guitar Blues (CD, 500)
Southside Johnny and the Asbury Jukes – Live from E Street (EP, 1,000)
Uriah Heep – Live (2 LP, 1,000)
RSD First Releases
Def Leppard – The Def Leppard EP (12″, 4,000)
Paul McCartney – Cassette Demos (Cassette, 2,500)
Harry Nilsson – Nilsson Schmilsson (LP, 3000)
Pearl Jam – "State of Love and Trust"/"Breath" (7″, 5,000)
Todd Rundgren and Utopia – Utopia Live at the Fox: 1973 (2 LP, 1,400)
Rush – Cygnus X-1 (12″, 5,000)
Bruce Springsteen and the E Street Band – Hammersmith Odeon London '75 (4 LP, 3,000)
Stevie Ray Vaughan – Live at Carnegie Hall (2 LP, 3,000)
Frank Zappa – "Rollo"/"Portland Improvisation" (10″, 4,000)
April 28
Allman Brothers Band, Fox Box
Allman Brothers Band, Hell & High Water: The Best of the Arista Years
Atlanta Rhythm Section, Truth in a Structured Form (reissue)
Big Star, The Best of Big Star (vinyl)
Cheap Trick, The Epic Archive Vol. 1: 1975-1979
Van Morrison, The Authorized Bang Collection
May 5
Arthur Lee & Love, Complete 'Forever Changes' Live
Blondie, Pollinator
Chris Robinson Brotherhood, Betty's Self-Rising Southern Blends, Vol. 3
Chuck Berry, The Complete Chess Singles As & Bs 1955-61
Grateful Dead, Cornell 5/8/77
Little River Band, The Big Box (six-CD set)
Pearl Jam + others, Cover Stories: Brandi Carlile Celebrates 10 Years of The Story – An Album to Benefit War Child
Rare Earth, Dreams / Answers; Willie Remembers (reissues)
Robin Trower, Time and Emotion
The Turtles, It Ain't Me Babe; You Baby/Let Me Be; Happy Together; The Turtles Present the Battle of the Bands; Turtle Soup; and Wooden Head (reissues)
U2, U218 Singles (vinyl)
Various artists, Max's Kansas City 1976 & Beyond
May 12
Bob Dylan, The Freewheelin' Bob Dylan; The Times They Are A-Changin'; Another Side of Bob Dylan; and Highway 61 Revisited (reissues)
Neil Young, Official Release Series Discs 5-8 (four-CD box set); Official Release Series Discs 8.5-12 (five-CD box set)
Todd Rundgren, White Knight (with Donald Fagen, Trent Reznor, Daryl Hall, Joe Walsh, Joe Satriani, others)
Warrant, Louder Harder Faster
May 19
Chris Cornell, Paul Westerberg, Mudhoney, Mike McCready and others, Singles: Deluxe Edition
Iron Maiden, No Prayer for the Dying, Fear of the Dark, The X Factor, and Virtual XI (reissues)
Jethro Tull, Songs From the Wood: 40th Anniversary Edition, The Country Set
Little Steven, Soulfire
Peter Cetera, The Very Best of Peter Cetera
Rob Halford, The Complete Albums Collection (14-CD set)
May 26
Bad Company, Run with the Pack; Burnin' Sky (reissues)
The Beatles, Sgt. Pepper's Lonely Hearts Club Band: 50th Anniversary Edition
Blue Cheer, Vincebus Eruptum (reissue)
Danzig, Black Laden Crown
Fandango [Joe Lynn Turner], The Complete RCA Albums 1977-1980 (four-CD set)
Foreigner, 40
Grateful Dead, Long Strange Trip
Mark Slaughter, Halfway There
Rolling Stones, Olé Olé Olé! A Trip Across Latin America
Spirit, Spirit (reissue)
June 2
David Byrne, Live From Austin, TX (vinyl)
Grateful Dead, Road Trips Vol. 4 No. 5: Boston Music Hall 6/9/76
Jesse Ed Davis, Red Dirt Boogie: The Atco Recordings 1970-1972
King Crimson, Heroes: Live in Europe 2016
Robert Lamm [Chicago], Time to Chill: A Retrospective
Roger Waters, Is This the Life We Really Want?
U2, The Joshua Tree: 30th Anniversary Deluxe Edition
The Who, Live at the Isle of Wight 2004
June 9
Chuck Berry, Chuck
Derek and the Dominos, Layla and Other Assorted Love Songs (reissue)
Gov't Mule, Revolution Come … Revolution Go
Lindsey Buckingham and Christine McVie, Buckingham McVie
Paul Simon, The Concert in Hyde Park
Ritchie Blackmore's Rainbow, Live in Birmingham 2016
ZZ Top, Cinco: The First Five LPs
Various artists, American Epic: The Sessions
June 16
Can, The Singles
Cheap Trick, We're All Alright!
Styx, The Mission
June 23
Harry Nilsson, Popeye: Music From The Motion Picture (Deluxe Edition)
Iron Maiden, Brave New World, Rock in Rio, Dance of Death, and A Matter of Life and Death (reissues)
Joe Bonamassa [Black Country Communion], Live at Carnegie Hall: An Acoustic Evening
June 30
Beach Boys, Sunshine Tomorrow: Wild Honey Box Set
The Beau Brummels, The Very Best of The Beau Brummels: The Complete Singles
Bruce Springsteen and the E Street Band, Hammersmith Odeon, London '75 (vinyl reissue)
Don Felder, Airborne (reissue)
Elton John, Tumbleweed Connection; Honky Chateau (vinyl reissues)
Europe, The Final Countdown 30th Anniversary Show: Live at the Roundhouse (vinyl)
Randy Meisner, Randy Meisner (reissue)
R.E.M., Live at the Olympia
Steppenwolf, Skullduggery (reissue)
Steve Howe, The Relativity Years
July 7
Bob Dylan, The Freewheelin' Bob Dylan; The Times They Are a-Changin'; Another Side of Bob Dylan; Highway 61 Revisited (reissues)
Boz Scaggs, Moments; Other Roads (expanded edition reissues)
Chris Bell, Looking Forward: The Roots of Big Star
Riverdogs [Vivian Campbell], California
Spirit, The Family That Plays Together (reissue)
July 14
Dusty Springfield, A Brand New Me: The Complete Philadelphia Sessions (expanded edition)
Eagles, Their Greatest Hits: Volumes 1 & 2
Grateful Dead, Smiling On a Cloudy Day
Neil Young, Hitchhiker
Status Quo, Last Night of the Electrics
July 21
Chris Robinson Brotherhood, Barefoot in the Head
Eric Stewart [10cc], Anthology
Iron Maiden, Death on the Road, Flight 666, The Final Frontier, and En Vivo!
Marillion, Misplaced Childhood (deluxe edition reissue)
The Monkees, Summer of Love
Mr. Big, Defying Gravity
Ramones, Leave Home (40th anniversary reissue)
Willie Nile, Places I Have Never Been
July 28
Alice Cooper, Paranormal
The Beach Boys, Pet Sounds (vinyl)
Billy Joel, Greatest Hits: Volume I & Volume II (reissue)
The Cars, Candy-O; Panorama (expanded reissues)
Elton John, Don't Shoot Me I'm Only the Piano Player; Caribou (vinyl reissues)
Elvis Presley, A Boy From Tupelo: The Complete 1953-1955 Recordings
Fairport Convention, Come All Ye: The First Ten Years (1968 to 1978)
Firefall, The Singles A's & B's
Fleetwood Mac, Vintage Years
Jackyl, Jackyl 25
Jerry Garcia and Merl Saunders, GarciaLive Volume Nine: August 11th, 1974 Keystone Berkeley
Santana and the Isley Brothers, Power of Peace
10cc, Before, During, After: The Story of 10cc
Aug. 4
Accept, The Rise of Chaos
Claypool Lennon Delirium, Lime and Limpid Green (EP)
Def Leppard, Hysteria: Expanded 30th Anniversary Reissue
Eagles of Death Metal, I Love You All the Time: Live at the Olympia in Paris
George Thorogood, Party of One
Jane's Addiction, Alive at Twenty-Five (Blu-ray/DVD/CD)
Quiet Riot, Road Rage
Randy Newman, Dark Matter
Aug. 11
Live, Mental Jewelry: 25th Anniversary Edition
Steve Howe, Anthology 2: Groups & Collaborations
Aug. 18
Bob Dylan, The Freewheelin' Bob Dylan; Another Side of Bob Dylan; Highway 61 Revisited (reissues)
Pete Townshend, Scoop; Another Scoop; Scoop 3 (reissues)
Raspberries, Pop Art Live
Steven Wilson, To the Bone
Aug. 25
Filthy Friends [R.E.M.'s Peter Buck], Invitation
Motley Crue, XXX: 30 Years of Girls, Girls, Girls
Nick Lowe, And His Cowboy Outfit
Queens of the Stone Age, Villains
Walter Trout, We're All In This Together [Joe Bonamassa, Warren Haynes, John Mayall, Randy Bachman, Edgar Winter]
Sept. 1
Carole King, Tapestry: Live at Hyde Park
Sept. 8
Ace Frehley, Anomaly (reissue)
Alice Cooper, Welcome to My Nightmare Special Edition (DVD)
Living Colour, Shade
Neil Young, Official Release Series Discs 5-8; and Official Release Series Discs 8.5-12
Sept. 15
Gene Clark, Gene Clark Sings For You
Michael McDonald, Wide Open
Ringo Starr, Give More Love
Sept. 22
Brian Wilson, Playback: The Brian Wilson Anthology
Stephen Stills and Judy Collins, Stills & Collins
Van Morrison, Roll With the Punches
Sept. 26
Rolling Stones, On Air in the Sixties (Book/DVD)
Sept. 29
David Bowie, A New Career in a New Town (1977-1982)
TBA / Rumored:
Ace Frehley (untitled, details here)
Adler (untitled, details here)
Billy Gibbons, Billy Gibbons and the BFGs Go to Cuba
Bruce Springsteen (untitled, details here)
Cheap Trick (untitled Christmas album, details here)
David Crosby (untitled, details here)
Gene Simmons (untitled box set of unreleased solo songs, details here)
Gregg Allman, Southern Blood
Harry Smalls [Harry Shearer], Smalls Change
Hollywood Vampires (untitled, details here)
Joe Perry (untitled, details here)
Kansas (untitled, details here)
Lemmy Kilmister (untitled solo debut, details here)
Mick Mars / John Corabi (untitled, details here)
Ozzy Osbourne (untitled, details here)
Paul McCartney (untitled, details here)
Richie Sambora / Orianthi (untitled, details here)
Ronnie Montrose, 10 by 10
Steve Perry (untitled, details here)
Tom Petty Wildflowers: All the Rest
U2, Songs of Experience
Top 20 Classic Rock Albums of 2016
Source:
2017 New Music Releases