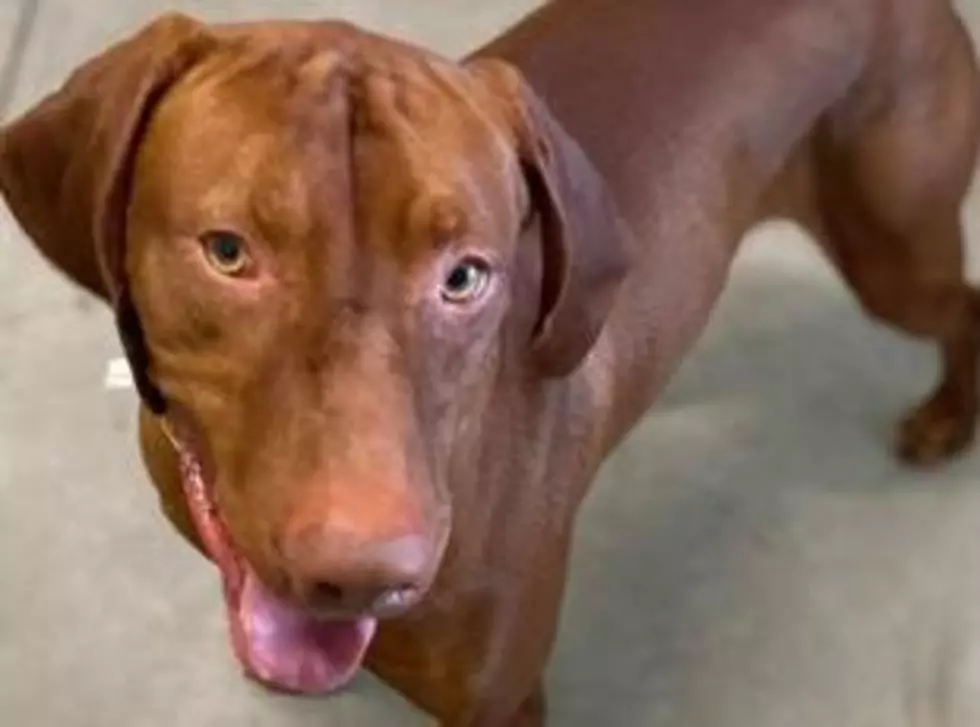 A Dog Named Roy, This Week's Adoptable Pet
TCHS
As usual on a Tuesday morning, we talked to Kate from Tri County Humane Society. Kate told us they have around 25 dogs up for adoption right now. Today we are featuring a dog named Roy.
Meet Roy! This handsome pooch came to TCHS with his sister Julie due to the health of their owner. Roy was brought to us by a family member, so we have limited information on his history and personality. It is unknown how Roy does with children or cats, but we do know he is dog selective and can be dominant with other dogs.
He gets along okay with his buddy Julie as long as they have their own space. If being adopted into a home with other canines, a meet and greet with the residents dog must be arranged at the shelter first. It is recommended Roy does not go to a home with any young children due to his size and rowdy energy.
Any introductions to new family members should be slow and proper; ask a staff member for tips. True to his breed, Roy is very energetic. Will need a home that has the time and motivation to keep him moving and happy. Daily physical and mental exercise is needed. Unknown what/if any training this sweet guy has had in the past; it would be a good idea to get him signed up for some basic obedience classes.
Highly food and treat motivated, so positive reinforcement methods of training are likely to go well. His breed is quite athletic, so agility, hunting, disc dog training, or other sporting events may be a great option. It is unknown if he is fully house-trained, so his new family should make sure to let him outside on a consistent schedule.
Roy has been very sweet and bouncy since his arrival and enjoys attention from shelter staff!. Come meet him and let him bounce his way into your heart! Donations and adoption fees help cover the cost of spay/neuter surgeries, micro-chipping, vaccinating, de-worming, any medical procedures and general care.
DEPOSITS MAY BE PLACED ON ADOPTABLE ANIMALS by calling 320-252-0896
Visit Animals
Monday - Thursday:  12 - 6:00pm
Friday:  12 - 8:00pm
Saturday:  11am - 5:00pm
Sunday:  12 - 5:00pm
Shelter Store Opens Earlier
Now in our new location on the same property!
735 8th Street NE
St. Cloud, MN 56304
8 Things That Show Minnesotans are Tougher than Others