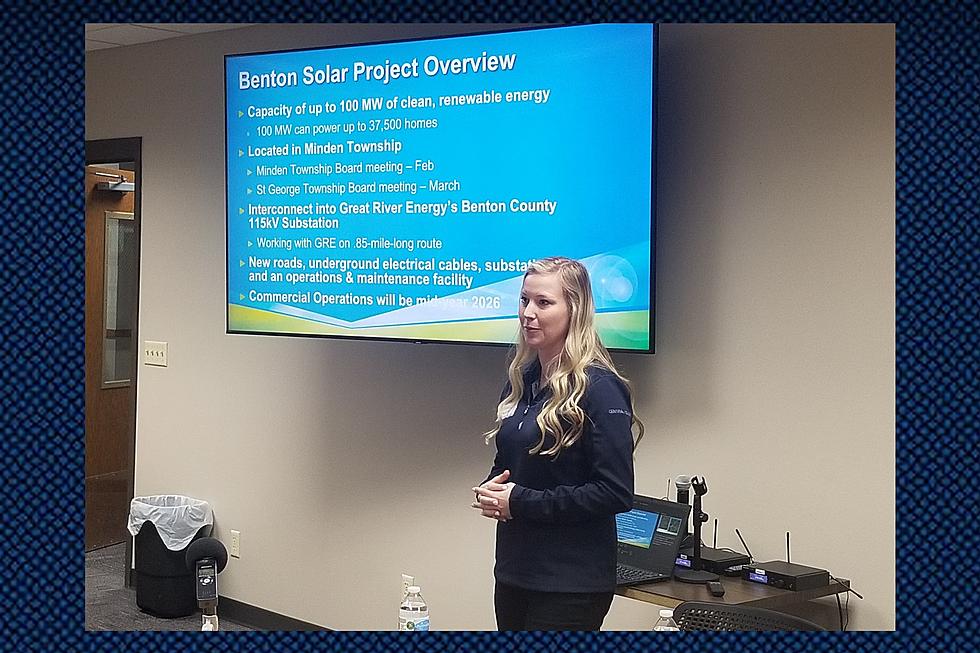 Business Leaders Learn More on the Benton Solar Project
Project Manager Brittney Paxson explains the Benton Solar Project. Photo - Jeff McMahon, WJON
FOLEY (WJON News) - Foley-area businesses and leaders met with Next Era Energy Thursday to discuss the Benton County Solar Project.
The 550-acre project, once complete, will provide up to 100 megawatts of clean energy, or enough to power over 37,000 homes. The solar farm will connect to the Great River Energy substation just North of the Territory Golf Course.
Project Manager Brittney Paxson says construction is scheduled to start in 2025, to give enough time to get the proper permits.
We buffer about 16 to 18 months in our schedule, just to be safe. Although (in) Minnesota the permitting is at a state level, we do care very deeply about what the counties feel. They are very involved in the permitting process because there are smaller county-level permits that are needed for this project to occur.
Next Era Energy has committed to investing over $698 million in Minnesota, mainly in clean energy projects.
Construction of the Benton County Solar project is anticipated to employ over 200, and Next Era expects to employ two employees to maintain the property once complete.
READ RELATED ARTICLES
175 Years of Benton County History