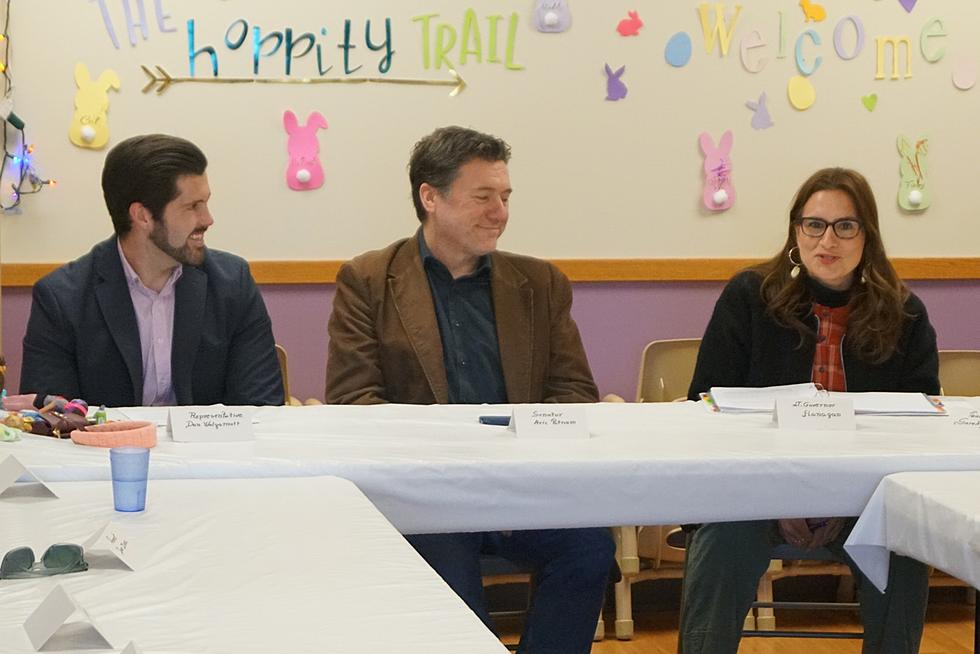 Flanagan Talks Daycare at St. Cloud Roundtable
9l to r): Dan Wolgamott, Aric Putnam, and Lt. Governor Peggy Flanagan. Photo: Jeff McMahon, WJON.
ST. CLOUD (WJON News) - Minnesota Lieutenant Governor Peggy Flanagan stopped in St. Cloud Friday for a roundtable discussion on the availability of child care.
Flanagan was joined by Senator Aric Putnam and Representative Dan Wolgamott to listen to childcare workers and parents at the Love and Learn Child Care Center in St. Cloud.
She says any discussion with working families usually turns to the cost, and availability, of quality childcare.
And we are simply in a time when in order for folks to afford their lives, we need two parents who are working in order to be able to afford the basics.
Flanagan stressed that childcare should be about options. In-home daycare may work for some families, while the structure and educational programming of a center may benefit other children.
During the roundtable, Flanagan heard from several childcare workers that talked about the challenges of daycare.
Low pay
Access to affordable healthcare
Respect. Workers mentioned that they hear others say to them 'You're just a babysitter', while they have specialized training and skills that rival a grade-school teacher.
Several parents, and recent transplants to St. Cloud, talked about the availability of health care as a main factor when they looked at moving to St. Cloud. Ed Golding said the availability of child care ranked second or third on reasons to make a move to the area.
The bigger things were making sure we could we were both have jobs. But then, pretty much right after that, it was making sure we could find a place to live and we could find a place that our kids would be able to grow. I would say (it was) a tie for third or second to why we moved here.
Parents listed their concerns for child care:
Location – is the center on the way to work or home?
Affordability.
Trust in the center or daycare provider.
Parents mentioned that they lose money going to work when they factor in the cost of daycare for their family.
Flanagan said a plan by the administration to provide tax credits to families to offset the high cost of child care is in the works, and stressed the need for companies that need a workforce to invest in child care for their workers.
Representative Wolgamott said House File 239 (HF238) is moving through Congress. The 'Great Start Compensation' plan includes $280 million in available funding to stabilize daycare center staff.
READ RELATED ARTICLES
Come Visit Fairhaven, Minnesota in Pictures