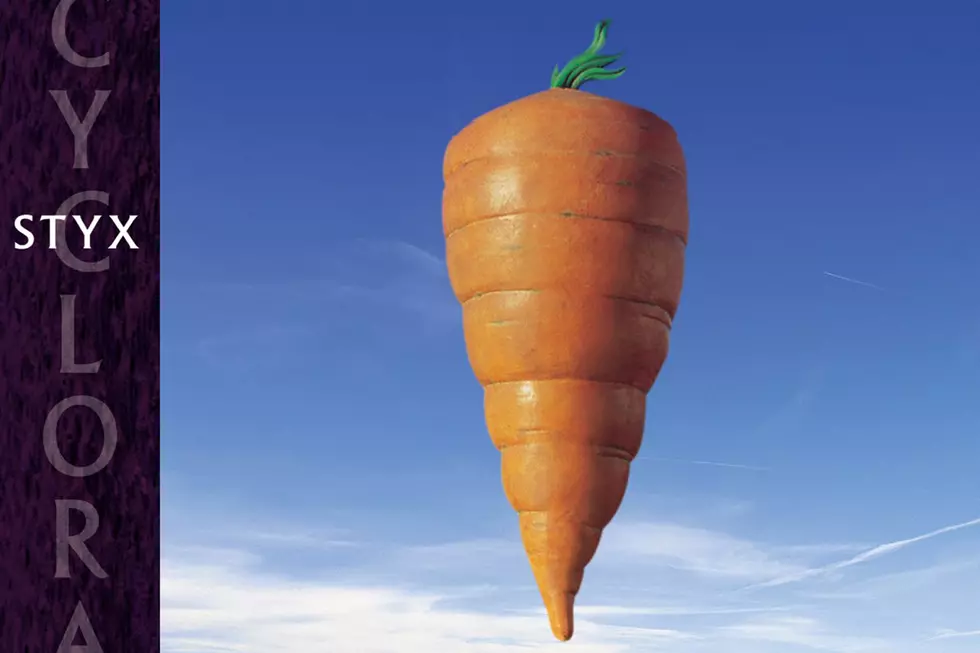 When Styx Made Their First Album Without Dennis DeYoung
Sanctuary Records
Styx officially closed the door on the Dennis DeYoung era with Cyclorama, the first album without their longtime frontman.
They'd been building up to the moment, having reached a stalemate several years earlier in the summer of 1999. DeYoung had been dealing with health issues which rendered him unavailable for touring behind their then-current Brave New World album, released that June.
It was yet another bump in the road when it came to dealings between DeYoung and the other legacy members, as bassist Glen Burtnik later detailed on the Fans in Motion podcast. Presented with a way out, they opted to move forward without DeYoung.
Lawrence Gowan took over in place of DeYoung, then had more than 50 concerts that summer to get acclimated with Styx's inner workings. He was a fresh face with many Styx fans, but Gowan had enjoyed plenty of chart success in his native Canada – particularly with 1985's AOR staple, "A Criminal Mind."
He relished the opportunity to join the writing process when Styx began working on the album that would become Cyclorama, but also wanted to honor their past. "I tried to balance, on the one hand, using only vintage keyboards in the studio," Gowan told The Daily Herald in 2003. He blended those elements with the songwriting, which felt current to his ears, and really liked the hybrid feel that emerged. "Some new sounds would come in and make so much sense that I think it's a strong balance between the two."
Listen to 'Do Things My Way' by Styx
There were additional links to the past. "Fooling Yourself (Palm of Your Hands)" was a musical callback to a '70s-era Styx favorite, this time recast as a short interlude that found Beach Boys legend Brian Wilson stepping in to help with the harmonies.
The sessions ended up reminding Tommy Shaw of working on Styx's classic The Grand Illusion album. As was the case back then, everyone contributed to the material. "The songs went through the gauntlet," Shaw told The Daily Herald, as they "added and subtracted, and we changed it and molded it into a Styx song that really represents Styx today."
The heavy road work also left them itching to put the updated configuration of Styx with Gowan to the test. "Usually, you play 40, 60 shows and you get all of that residual artistic buildup that you go unleash onto new songs," Shaw explained. "We've got 400 shows, so there was quite a bit of artistic buildup to get out."
It's not hard to hear that pent-up energy as Cyclorama launches with a pair of melodic rockers led by Shaw's vocals. "Do Things My Way" has a psychedelic tint that adds interesting shade to electric guitars that are split left and right. "Waiting for Our Time," meanwhile, features an acoustic intro that feels a bit reminiscent of Shaw's earlier Styx adventures with "Crystal Ball" and even a touch of Yes' "Your Move."
As the amplification rises, it's clear that this version of Styx is going to put focus on reminding fans that they are, at heart, a rock band.
Listen to 'Fields of the Brave' by Styx
Released on Feb. 18, 2003, Cyclorama had to serve a lot of different masters. Burtnik had first joined Styx for 1990's Edge of the Century as a replacement for Shaw, who was away working with Damn Yankees. When Burtnik rejoined the Styx lineup nearly a decade later, Shaw was back in.
With additional contributions from drummer Todd Sucherman, they now had six songwriters on board. The resulting album clocks in at nearly an hour and it was "a difficult one to make, because we wanted to include everyone's personality in there," Gowan told Vinyl Writer Music in 2022.
An off-the-cuff lead vocal from actor Billy Bob Thornton on "Bourgeois Pig" and a skit from Tenacious D rounded out Cyclorama, which also included the bizarrely new age-tinged "Genki Desu Ka." As humorous as some of that material may be, it probably could have been trimmed – along with two or three of the songs.
Acknowledging its stronger material, Gowan conceded that the LP could sometimes come off as "a little out of step with what Styx is." At the same time, however, Cyclorama feels like the album that Styx had to make for themselves in order to move forward.
They would never make another record with this particular grouping again: Burtnik exited the lineup again less than a year after Cyclorama was released. But the album bottled a number of promising moments which made the project that followed worth waiting for. It just turned into a very long wait.
Rock's Ugliest Band Breakups
Ugly band breakups are a sad fact of life in the world of classic rock – along with death, taxes, hair loss and yes, profitable reunion tours.
Real-Life 'Spinal Tap' Stories: Styx