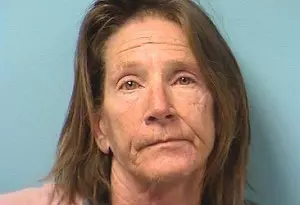 Man Stabbed, Woman Arrested in Drunken Dispute
Stearns County Jail booking photo
ST. CLOUD -- A man and a woman from St. Cloud were drunk when a fight broke out and left the man with serious stab wounds.
St. Cloud Police were called the 800 block of 12th Avenue North around 7:00 p.m. Thursday on a report of a drunk man walking in the roadway. Officers arrived and found the 53-year-old had been stabbed at a nearby home.
Police found the suspect 66-year-old Linda Weller, and arrested her on suspicion of first and second degree assault.
The man suffered three stab wounds to his back and a punctured lung.  He was taken by ambulance to St. Cloud Hospital.
Weller suffered a small cut in the incident and was also treated at the hospital before being booked into the Stearns County Jail.