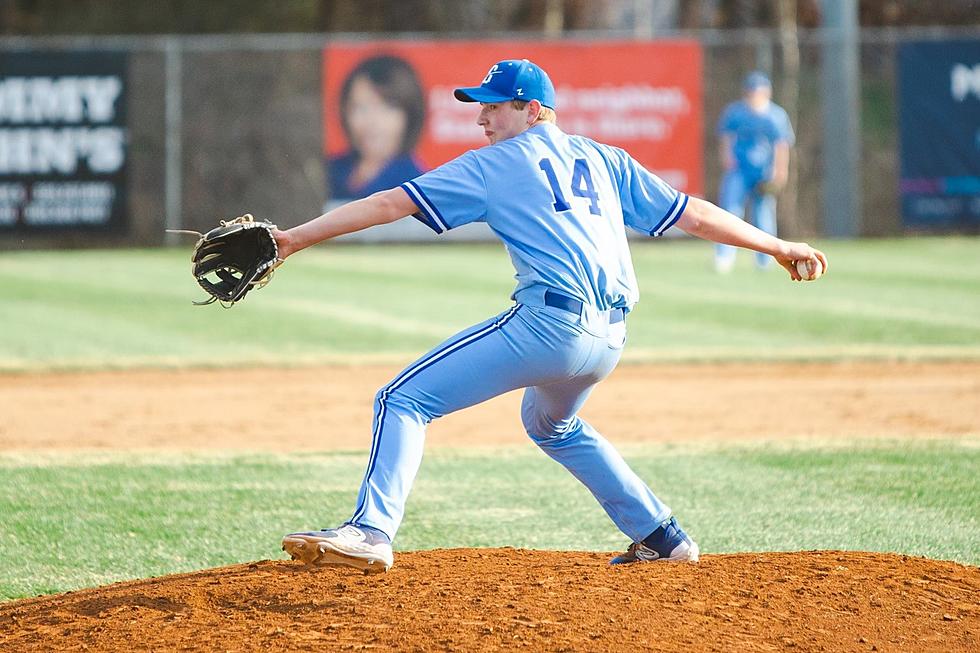 Sartell, Cathedral & ROCORI Baseball Win Playoff Games
Wesley Johnson (photo courtesy of Bruce Thompson)
The Sartell-St. Stephen baseball team needed 11 innings to down Elk River 2-1 in the Section 8-4-A playoffs Thursday.  Wesley Johnson threw 10 innings with 7 hits and 1 earned run allowed with 4 strikeouts and he was 1-5 at the plate with a RBI.  Both Kade Lewis and Drew Ritter went 2-4 for the Sabres.  Sartell will play at Rogers Tuesday at 4:30 in the winners bracket.
Section 8-4-A Results:
Sartell-St. Stephen 2, Elk River 1
Rogers 2, Bemidji 1
STMA 14, St. Cloud Crush 7
(St. Cloud eliminated)
Brainerd 6, Moorhead 0
(Moorhead eliminated)
Section 8-3-A Results:
Rocori 5, Detroit Lakes 3
(Jack Boos went 2-3 with 2 RBI and a run scored and both Beck Loesch and John Kinzer added 1 hit, a run scored and 1 RBI for the Spartans.  Evan Acheson threw 6 innings with 3 hits and 0 earned runs with 8 strikeouts for ROCORI.  Brady Weber threw the last inning for the Spartans.  ROCORI will play Alexandria at the MAC in the winners bracket Saturday at 11 a.m.)
Alexandria 2, Little Falls 1
Sauk Rapids-Rice 15, Willmar 2
(Sauk Rapids-Rice will play Little Falls at 11 a.m. at MAC Saturday in an elimination game).
Section 6-2-A Results:
Cathedral 4, Foley 3
(Cathedral scored the go-ahead run in the top of the 7th to come from behind and beat Foley 4-3 and stay unbeaten in the section tourney. Tanner Staller had two hits and drove in two runs for the Crusaders. John Brew earned the win, pitching a solid six innings. Tommy Gohman fired a perfect 7th inning for the save. Cathedral plays Eden Valley-Watkins in the winner's bracket final on Monday at 7pm at Dick Putz Field).
Eden Valley-Watkins 4, Pierz 2
Albany 11, Pillager 1
(Pillager eliminated. Albany will play Pierz at 4:30 at Faber Field Monday).
Holdingford 9, Staples-Motley 2
(Staples-Motley eliminated.  Holdingford will play Foley at 4:30 Monday at Dick Putz Field).
Come Visit Freeport, MN With Us in Pictures