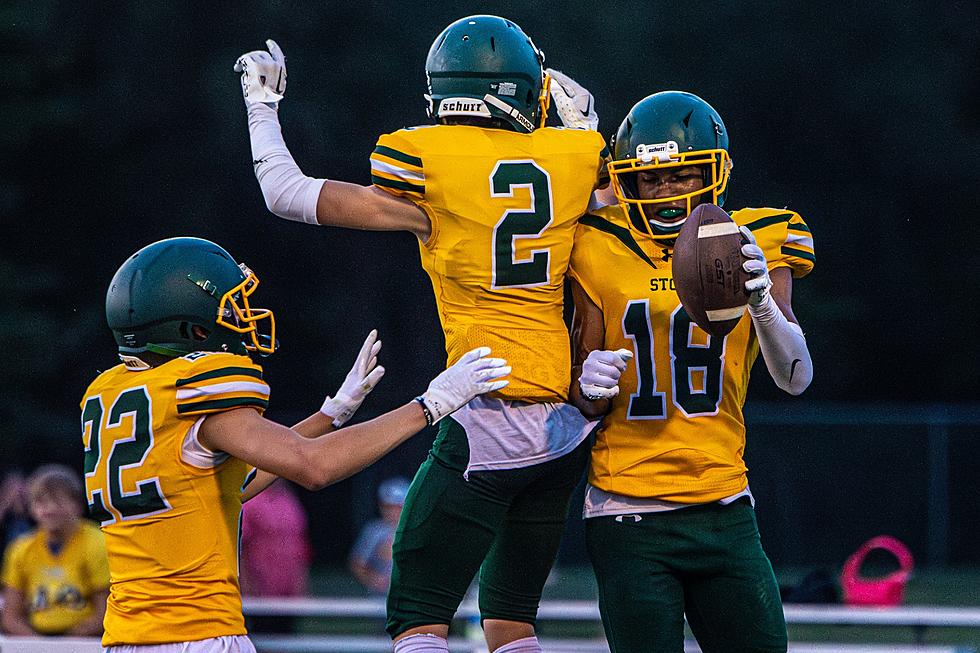 St. Cloud Area Prep Football Preview – Week Five/September 29th
photo - Andrew Ritter
We are past the halfway point of the high school football regular season - time flies when you are having fun!
This week on AM 1390/FM 93.9 Granite City Sports, the Sauk Rapids-Rice Storm (4-0) head to Elk River to take on the defending state champion Elks (1-3). Kickoff is set for 6:30 p.m. and can be heard online at 1390GraniteCitySports.com or on the GCS mobile app.
The Storm took down St. Francis 16-7 last week on the road to remain undefeated, while Elk River lost a wild game at Andover by a 63-56 final score.
ELSEWHERE:
SARTELL (0-4) @ BEMIDJI (2-2) 
The Sabres' struggle to find the end zone continued last week with a 41-6 loss at Bemidji. Sartell has scored 19 points in four games this season, granted those four games were all against quality opponents.
The Lumberjacks snuck past St. Cloud Tech last wek for a 43-35 win.
APOLLO (0-4) @ SPECTRUM (0-4) 
The Eagles will hit the road for a matchup with the winless Sting. Apollo has suffered three lopsided losses since their close game with Chisago Lakes in week one, losing 33-7 at home against Foley last week.
The Sting will try to bounce back after a 40-6 loss at Watertown-Mayer last week.
TECH (0-4) @ MOORHEAD (2-2) 
The Tigers head north for a matchup with the always-tough Spuds in week five. Tech lost a tough battle with Bemidji last week, while the Spuds fell 28-20 at home against Brainerd last time out.
WILLMAR (1-3) @ ROCORI (3-1) 
The Spartans posted a very impressive 11-0 win at Hutchinson last week on the heels of their 13-0 home win against Benilde-St. Margaret's. Willmar has lost three in a row after shutting out Big Lake in week one.
PAYNESVILLE (1-3) @ CATHEDRAL (0-4) 
FOLEY (2-2) @ MILACA (2-2)
HUTCHINSON (3-1) @ (BECKER (4-0) 
OSAKIS (3-1) @ HOLDINGFORD (4-0) 
MAPLE LAKE (0-4) @ KIMBALL (3-1) 
Come Visit Buckman, Minnesota in Pictures