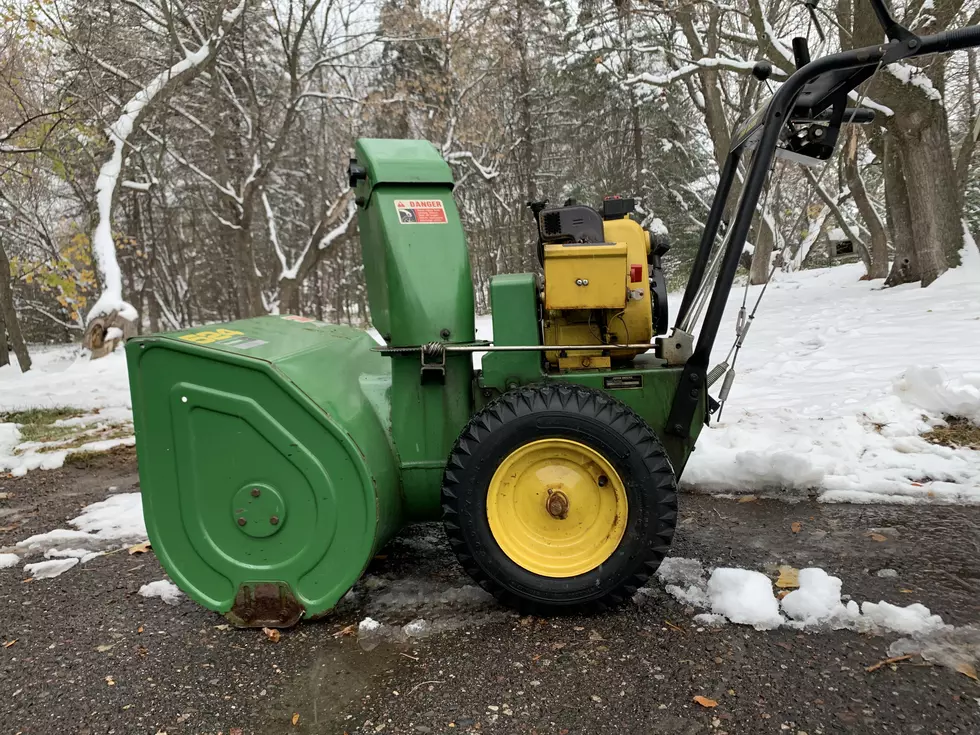 The Hottest Item in Central Minnesota is a Used Snowblower
Credit: David Black
Who knew the used snowblower market in Minnesota would be so hot? I certainly didn't -- but trust me, it is.
The record-setting snowfall a couple of days ago apparently caught people off guard. Suddenly a whole bunch of Minnesotans needed a snowblower, and they needed it now. But we're not talking about people that could just have gone to a store and bought a new one. We're talking about people like me. Or maybe like me.
The new house I bought happens to come with some acreage -- and a long driveway. I knew that there are some rather expensive items I needed to buy.
With the driveway's length, I determined right away that we needed a four-wheeler with a plow. I also knew we didn't have the money at the moment to purchase said four-wheeler.
I also didn't wanna drop a lot of money on a snowblower, knowing that my primary Means of moving snow would not be the snowblower. Plus, have you seen the cost of snowblowers these days?
I started searching craigslist didn't find a lot there. So I decided to try Facebook's marketplace. And holy cow! Not only were there a bunch of used snowblowers, but there were also a bunch of people wanting to buy one. If there was a decent brand at a reasonable price, odds are that thing was spoken for within an hour.
I must have sent off a dozen inquires, and almost everyone was replied with "sorry, it's already sold" or "I've got somebody coming to look at it. I'll let you know."
I finally found an older John Deere model (nothing runs like a deer) that somebody was selling for $400. It had been posted 15 minutes before seeing it, so I immediately sent off the "is this still available?" message. A message came back saying it was. We met shortly after, everything looked and started well. So I bought it.
After the sale, I asked him some questions. I was curious to know if he dealt with what I think he dealt with, given what I just experienced trying to get a snowblower. He said I was the 3rd person to respond (within 15 min), and the other two either offered way lower than the asking price, or they never followed up. If I hadn't asked to set up a time to see the blower, there were people behind me ready to scoop it up.
So if you're looking on Craiglist or FB Marketplace for something like a snowblower, don't hesitate. Especially if you see one, you're interested in. Otherwise, there's a good chance it will be gone within the hour.
Like so many things for me this year, such as the house we bought,  this came down to timing -- perfect timing.
Enter your number to get our free mobile app
St. Cloud Restaurants That Should Be on Diners, Drive-Ins and Dives