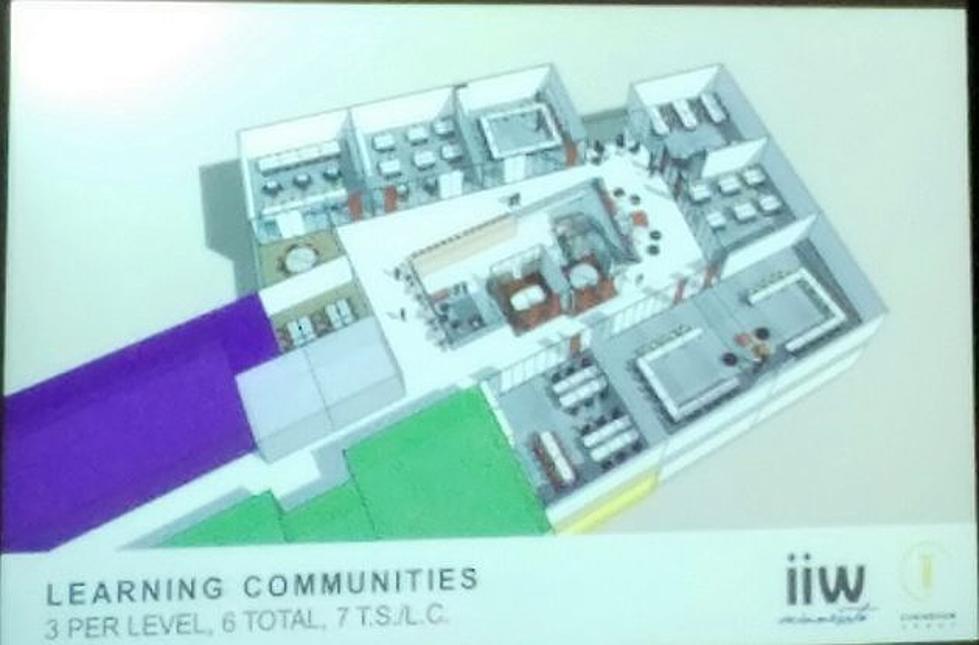 Designs For New St. Cloud Tech High School Starting To Come Together
Preliminary designs for some new learning neighborhoods in the new St. Cloud Tech High School, photo by WJON.com's Richard Leguil
ST. CLOUD - A $100 Million dollar dream is slowly becoming reality as the plans for the new St. Cloud Tech High School come together. The St. Cloud Area School Board got an update on the project during their meeting Wednesday night.
The school will be designed around new "Learning Neighborhoods".   Project Lead Designer Scott Krenner says the "Learning Neighborhoods" will be made up of several learning "studios" along with other spaces.
Seven learning and teaching stations, a staff collaboration room, a series of medium and small group rooms, as well as different open collaborative spaces.  So a collection of various learning spaces.  And, it's a way to break down the room.  Basically it's a space that supports 200 students.
The goal of the new high school is to foster as much collaboration and community as possible among students as they progress through their higher education.
From those 200 students in each Learning Neighborhood, the school will hold up to 1600.
Passion, experience and opportunity. That is what District Superintendent Willie Jett says the new Saint Cloud Tech High School, due to open in fall of 2019 is all about.
Better experiences, so when they enter the workforce they can be prepared. It's for today's and tomorrow's society. And we're feeling extremely passionate and excited about that.
Student preparation for today's and tomorrow's workforce are key factors driving the new Saint Cloud Tech Project along after the referendum to build the school passed in November of 2016.