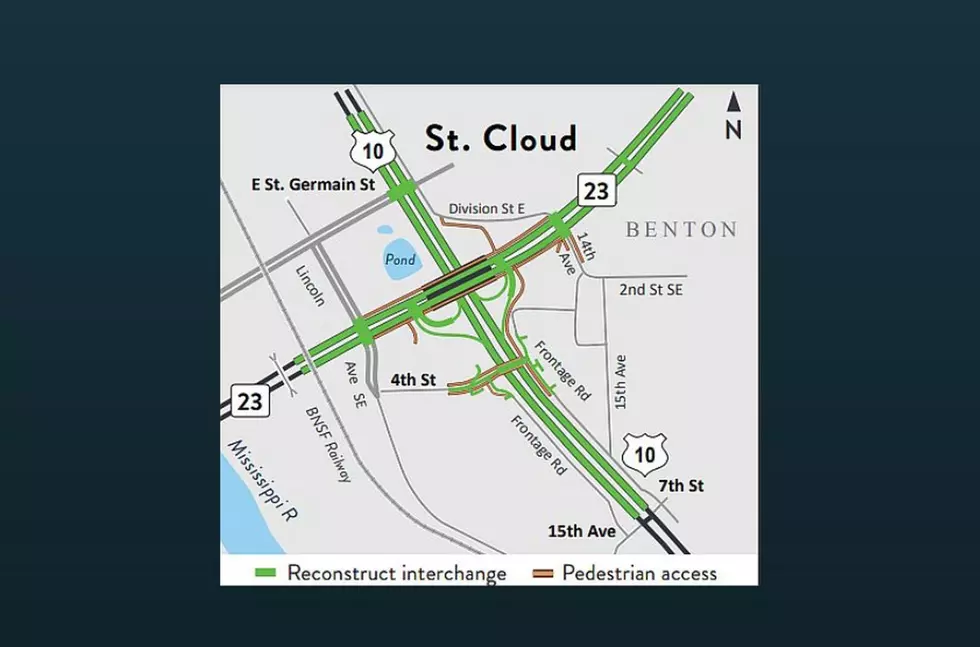 Huge 2 Year St. Cloud Road Construction Project Starts in April
Highway 10 Project, MnDOT
ST. CLOUD (WJON News) -- The Highway 10 and 23 reconstruction project on the east side of St. Cloud has been in the works for several years and now we're just a few months away from the work beginning.
The St. Cloud City Council got an update on the project during their meeting Monday night.
Public Service Director Tracy Hodel when they rebuild the Highway 23 bridge over Highway 10 they'll be adding a 10-foot high noise wall next to the apartments on the east side of Highway 10.
She says Highway 10 will also be lowered by 10 feet.
The biggest change is Highway 10 is going to be lowered 10 feet. So right underneath the bridge at Highway 23 you'll see that elevation change all the way to 15th Avenue Southeast and there will be large retaining walls on the east and west side of the highway.
Hodel says this is a long project with work beginning in April of this year, they'll suspend the work in November, and resume work next spring.
Highway 10 will be lowered one side at a time so we'll lower one side keeping one lane of traffic open in each direction.  And, heads up, St. Germain will need to be closed for about two weeks during the project for utility work.  The timing of that is unknown.
The final completion is expected in June of 2025.
The total cost of the project is $49 million.
LOOK: Route 66's quirkiest and most wonderful attractions state by state
Stacker
compiled a list of 50 attractions--state by state--to see along the drive, drawing on information from historic sites, news stories,
Roadside America
, and the National Park Service. Keep reading to discover where travelers can get their kicks on Route 66.