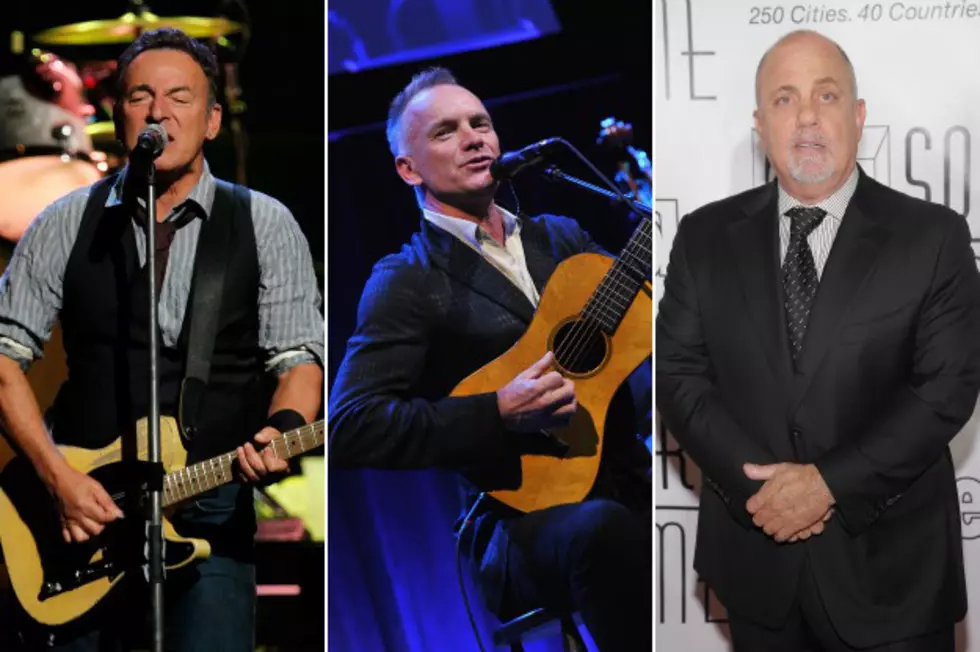 Springsteen, Sting, Billy Joel + More Headline All-Star Hurricane Sandy Benefit
Gregory Shamus / Larry Busacca / Michael Loccisano, Getty Images
The wind and rain that arrived with Hurricane Sandy earlier this week are now nothing more than a memory, but the hard work of rebuilding has just begun -- and an impressive array of rock stars are banding together to help.
Rolling Stone reports that NBC is spearheading an all-star televised benefit concert, dubbed 'Hurricane Sandy: Coming Together,' set to air this Friday (Nov. 2) at 8 PM EST on a list of networks that includes NBC, USA, MSNBC, CNBC, Bravo, E!, Style Network and G4, as well as online at NBC's website.
The list of talent includes a trinity of rock heroes from the New Jersey/New York area -- Bruce Springsteen, Billy Joel, and Jon Bon Jovi -- as well as a number of other performers culled from across the musical spectrum, including Sting and Christina Aguilera. The program will be hosted by a pair of the network's most well-liked on-air personalities, Matt Lauer and Jimmy Fallon.
'Coming Together' will act as a telethon to help raise money for those affected by the storm, but you don't have to wait until Friday night to donate -- you can simply visit the American Red Cross online, call 1-800-RED-CROSS, or text the word REDCROSS to 90999 to make a $10 donation.