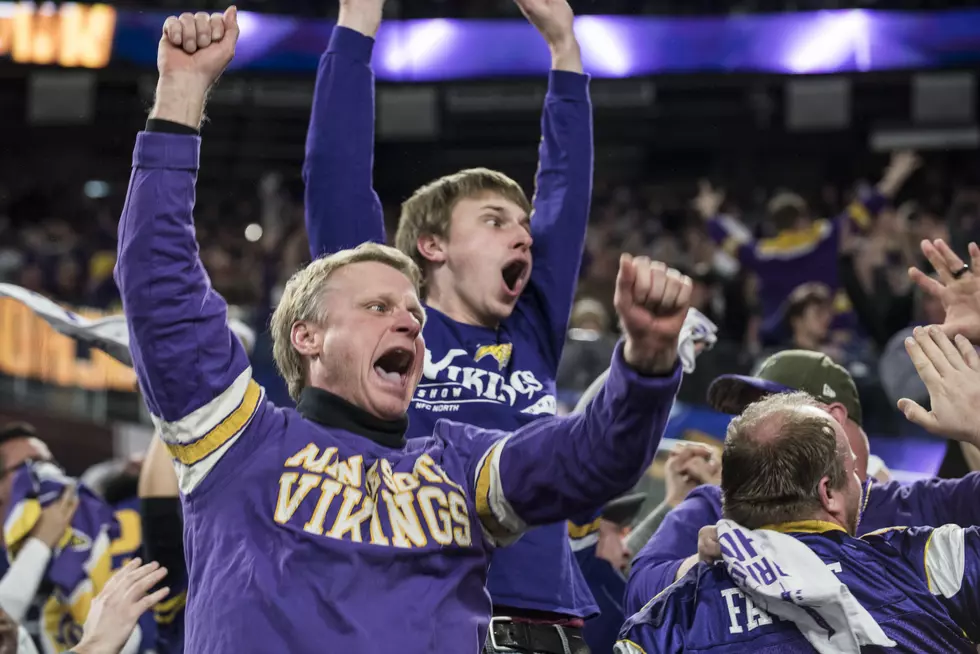 Survey Says Viking Fans Don't Complain As Much As Packer Fans
Stephen Maturen/Getty Images
Sure, Minnesota Vikings fans like to complain about their team, but they don't do it as much as other teams' fan bases do-- and that includes Green Bay Packer fans.
Enter your number to get our free mobile app
If you're a fan of pretty much ANY team, and you follow their ups and downs season-to-season throughout the years, you're bound to complain about how they're treated, right? But some teams' fan bases just seem to whine and complain way more than others. And, maybe surprisingly, Minnesota Vikings fans DON'T complain about their team the way other fan bases do.
That's the word, anyway, from a new survey by the sports site, mibets.com. Their 'Which NFL Fans Complain The Most?' list surveyed 5,000 NFL fans and has just ranked all 32 National Football League teams according to how much their fans gripe and complain.
Now, these complaints aren't about their team's performance as much as they are about how they feel their team is treated-- by the officials, by the league, and by other fans. You know the type of fan they're talking about here: The one who says something like, "We always get the bad calls!" or "That would have been a penalty for sure if OUR team did that!" and other similar comments while watching the game.
Like fans of the Green Bay Packers, for instance. (And full disclosure here, yes, being a Wisconsinite, yes, I'm a Packers fan.) They're ranked waay higher than Vikings fans are, all the way up at #13 on the list. (Which, though it pains me to say, seems pretty accurate.)
The fan base that complains the most about how their team is treated? That'd be the Dallas Cowboys, who came in first. They're followed by fans of the New England Patriots, the Buffalo Bills, the Chicago Bears and the Philadelphia Eagles to round out the top five most-complaining fan bases. (You can check the full list HERE.)
And, speaking of Green Bay and Wisconsin fans in general, do you know what they secretly think about your team and state? Keep scrolling to check out 10 things every Wisconsinsite thinks about Minnesota!
MN vs. WI: 10 Things People From Wisconsin Secretly Think About Minnesota