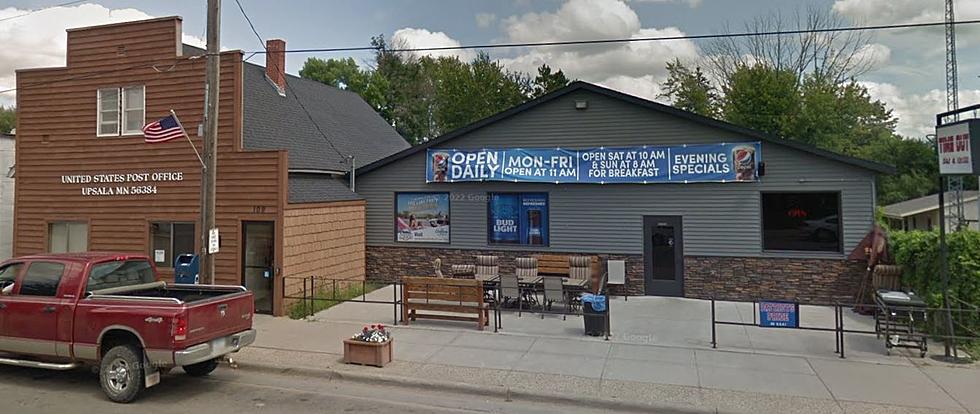 Ever Want Your Own Bar/Restaurant? 'Turn Key' Restaurant Available In Upsala
Image Credit: Google Maps
Sometimes you come to the realization that it's time for a change. That realization might come from a moment you experienced, maybe it has been a lifelong dream and the time seems right, or things outside your control have put you in the position to make a change. If you are looking for a 'turn key' building for a bar/restaurant there is one available right now in Upsala, right there next to the post office.
What was known as Cynthia's Kitchen & Cocktails in Upsala, has since closed and is up for sale. The description of the building makes it sound like you could be up and running in weeks after making the purchase.
SCHULTZ AUCTIONEERS LANDMARK of Landmark Real Estate has the listing and describes the available building as being:
Most attractively Priced up to date restaurant/lounge available in Central MN. TREMENDOUS BUSINESS OPPORTUNITY! THIS RESTAURANT/LOUNGE IS IMMACULATE WITH OVER 3680 SQ FT. ATTRACTIVE DINING AND LOUNGE SPACES, WITH BEAUTIFUL TILE FLOORS, AWESOME WOODWORK. NEW CONSTRUCTION IN 2011. A TURN KEY OPERATION WITH A COMPLETE LINE UP OF UP TO DATE KITCHEN EQUIPMENT TO SUCCESSFULLY OPERATE A QUALITY RESTAURANT & LOUNGE
That sounds pretty nice.
To see pictures of the inside of the bar/restaurant you can head to the realty site that is selling the former business by heading here.
The real question I have is, if you were to own a bar/restaurant what would you call it? The name could make or break you, would you go for clever and funny, or something simple and memorable? Let us know in the comments!
FOR SALE: Feast Yer Eyes on This Pirate Ship
LOOK: The 25 least expensive states to live in